Fanatec is one of the most popular gaming peripheral manufacturers worldwide. It has garnered a solid reputation for building high-end input devices for gaming consoles and PCs, including wheelbases, pedals, mounting, and steering wheels.
Fanatec offers an extensive range of high-quality steering wheels made with the pinnacle of simulation racing technology and materials to offer the best immersive experiences on the market. The Podium Steering Wheel R300 is one of the brand's latest PC/PS4/PS5-compatible multi-purpose wheels, making some serious noise in the market.
Hence, you already know we're going to get ourselves a piece of the action and judge every aspect of its design and performance.
So, if you're looking for your first wheel or an upgrade, read on. Learn the ins and outs of the R300, and determine if it's the right option for your budget, use case, and rig.
The Fanatec Podium Steering Wheel R300 – An Overview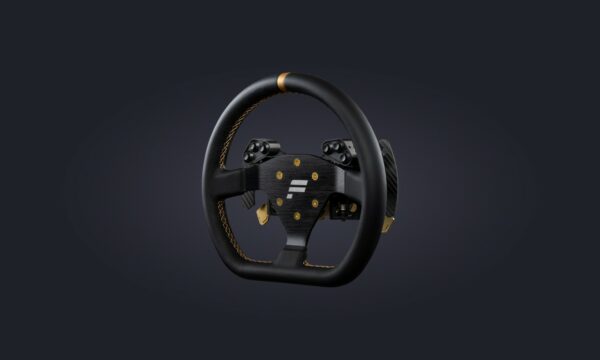 Costing around $500, the Podium R300 may not be the ideal wheel for everyone. However, if you're looking to make a statement and not bound to a modest budget, this model offers the perfect mix of performance and luxury. Its sleek black leather design with gold metal accents fosters a great first impression and gives your setup a professional look and feel.
It is compatible with PC, PS4, and PS5 (sorry, Xbox one users!) and includes all the essential features you'd come to expect from Fanatec, including force feedback, rumble, 1080-degree rotation, and expandability. Plus, the company has described R300 as a multi-purpose wheel due to its 30cm diameter. If you're new to simulation racing, this size is perfect for almost any type of vehicle in your favorite sim racing games, such as iRacing, Assetto Corsa, rFactor 2, etc.
Note: This product is only compatible with PlayStation if you combine it with a PlayStation-licensed wheelbase, such as the ClubSport, CSL Elite, and Podium.
In terms of connectivity, it includes a basic DataPort connector to add a stick shifter, pedals, handbrake, and other components. This wheel is excellent for PC and PlayStation sim racers who value function and fashion. In other words, anyone looking for a visually appealing steering wheel and the latest performance features and technology will not be disappointed.
However, we still need to do an in-depth dive for our savvy sim racing enthusiasts and potential buyers of the Podium Steering Wheel R300.
Key Features
Multi-Purpose Design – the all-rounder
Fanatec is known for combining different products to offer all-in-one solutions for high-end users. The Podium Steering Wheel R300 is a great example of this, featuring:
A Podium Wheel Rims R300
Two Adjustable ClubSport Button Clusters (2 X 3 buttons)
Podium Advanced Paddle Module with Six Paddles (4 Magnetic and 2 Analog paddles)
Podium Hub
Each component is strategically designed to maximize realism and amplify the simulation experience. For instance, the central hub is made from anodized aluminum, making the overall frame design incredibly lightweight, compact, and durable.
Moreover, it features mounting holes in a 6x70mm or 3x50mm pattern, making it compatible with a variety of third-party steering wheels for users looking to upgrade in the future, especially if you're a PC user. Of course, you'd require an independent data connection to customize different modular components.
Automotive-Grade Design and Materials
This stunning sim racing wheel has been constructed using carbon fiber, which makes it incredibly strong, stress and corrosion resistant, and lightweight (just under 4 pounds). Moreover, it's covered with premium-quality leather and gold stitching to give it a high-end feel. Fanatec also brushed the anodized bolts with gold to enhance their visual appeal.
Plus, with a diameter of 25cm, it should appeal to a huge sim racing audience, especially those looking to improve protection from electrical components with its centralized frame design.
Strategic, Customizable Button Placements
Unlike most wheels in the market, the buttons on the R300 aren't located on the front panel. Instead, they're attached to independent panels that can easily be moved along the rails, thus, allowing racers to customize their wheels to suit their control and look preferences. Plus, with this strategic design, racers can reach the buttons more easily without loosening their grip or removing their hand from the wheel.
Advanced Paddle Module
If you're looking for just one reason to buy this wheel, this is probably it. The Fanatec Steering Wheel R300 comes with magnetic paddles that offer a host of benefits, such as providing a realistic click during gear shifts and helping drivers shift faster. Plus, you get two paddle sets (one large and one small) included in the package, so you can switch them depending on your preference.
However, the most important benefit of this advanced paddle module is that it allows users to configure the paddles in four different modes:
Brake/Throttle
Clutch/Handbrake
Advanced Clutch Bite Point
Mappable Axis
This paddle operation uses powerful magnetics instead of springs. Today, most modern, advanced race cars employ the same technology to generate a crisp, positive feel to every shift while increasing its durability. Moreover, Fanatec went one step further to make the operation household friendly by minimizing the noise from metal-on-metal contact.
This is a treat for users that aren't too fond of that "click" sound, especially during rapid shifting. The only drawback is that the R300 doesn't include a tuning menu user can access through the wheel itself. Users have to tune the wheelbase by plugging it into a PC. However, it is much more complicated for console racers who manually adjust settings for every game they play, which is time-consuming and annoying.
Multi-Component Compatibility
One of the biggest benefits of opting for Fanatec products is its cross-platform/device/component compatibility for users.
Compatible Wheel Bases
Podium Wheel Base (DD1, DD2, DD1 PS4)
ClubSport Wheel Base (V2 and V2.5)
CSL Elite Wheel Base (Base, V1.1, +- PS4-Licensed Version)
CSL DD Wheel Base
Grand Turismo DD Pro Wheel Base
Platforms
PC
PS4/PS5 (Please note that the functionality and performance of the R300 on consoles depends on several factors, including the firmware, OS changes, developer support, and game.)
Unboxing and Assembly
As mentioned above, the Podium Steering Wheel R300 is made of four different parts, which include the wheel, the advanced paddle module, the hub, and the button cluster pack. The first thing to understand is that these components don't come pre-assembled, meaning you'll have to put them together yourself. Although this isn't too difficult to do for most savvy sim racers, newbies with little hardware assembly experience may struggle or take longer.
So, let's dive into it each component individually and learn how to put the wheel together:
The Wheel
Once you unbox the first box, you'll find the wheel along with a set of gold and black screws. Pick it up, and you should immediately feel the nice leather finish. So, if you love a solid grip but hate wearing gloves, you're going to love this. The smooth anodized aluminum finish, along with gold leather stitching, gives it a unique contrast that you're unlikely to find on any other wheel on the market. Moreover, if you feel the logo, you will notice a cross-hatch pattern in the center which looks like it has been lasered following the anodizing process.
The Advanced Pedal Module
Next, we have the advanced pedal module, which includes the paddles, neodymium magnets, and shifters. You'll also find some mounting hardware along with little screws and some Allen keys that come with the kit.
The Podium Hub and Buttons
This is the premium core component for Fanatec's modular steering wheel systems. It is used to connect the steering wheels and all the electrical components into a centralized system via mounting holes. When you open the box, you should see a quick start guide explaining how everything goes together in this central component. Just like the steering wheel, it's got that beautiful gold anodizing that matches every other component.
You should find the mounting points on the side for the shifters along with the standard Fanatec click release paddles on the back. There's also a USB C port on the bottom. However, it isn't a generic USB C port but rather a proprietary protocol Fanatec uses to connect the button module and future dedicated accessories.
You should also find the buttons in the box. Pop them out, and you should find little packets and pieces of smaller mounting parts. The buttons aren't too different from the ones you'd find on the universal hub. However, they have a slightly better click due to a decent tactile filter.
Hardware Assembly
The assembly of the Fanatec Podium Steering Wheel R300 is fairly straightforward. Once you place everything front and center after the unboxing, all you need is to use a bunch of screws to connect everything, starting with the buttons on the hub. However, you first need to choose their position according to your preference before mounting the wheel.
This is important because these buttons will be sandwiched between the wheel and the face of the mount, so you need to choose their position beforehand. From there, you simply need to screw them into the holes. Once you're done, you should ideally move on to installing the paddles onto the shifter modules since this is the easiest part of the assembly. Once you've done this, you're all set to connect the shifter modules onto the podium hub.
Note: You'll need to ensure that you screw the paddles from the tiny tapers' direction and not from the back. Otherwise, you'll be mounting them on the opposite side. Also, you'll need to pay attention to the screw lengths. The longer ones will be used to fix the paddle modules to the podium hub. The shorter ones will use in case you don't want to use the little aluminum spaces or want to ensure the taper is on the outside.
Once you've installed the panels, you can use the Allen keys included to ensure everything is tight. However, make sure you don't over-tighten them to avoid stripping the aluminum threads. With this, you're done with the hardware aspect and can move on to the electronics aspect of the assembly.
Electronics Assembly
For this purpose, all you'll need is the included Allen key. The first step here is to unscrew the three little screws on the top of the podium and lift the cap to see the brains of the operation. You don't need to be a certified electrician or IT genius for this since you'll simply be plugging your podium paddle module into the left and right connections. However, don't try to force the paddles in the wrong way because this will cause problems. Instead, just slip them in on both sides, and they should fit right in easily.
Next, you need to install the buttons. For this, you should see the same little connections. However, you'll need to face the contacts towards the bottom of the wheel this time, so they're keyed. This is going to be a tad complex since your hands will be blocking the view. However, just like the paddles, the buttons should pop right in.
Next, you need to do a "cable spaghetti" to ensure they don't pinch together or interfere with the components. Once you're done, put the cap back on and screw it. All that's left to do from here is mount the wheel. To do this, you can simply place the wheel and line it up with as many holes as possible without moving the washers.
This will help accelerate the process and make it much easier as well. Before you tighten everything, you should check the range of movement so you can make any necessary button or paddle adjustments. You want to have enough room to get your thumbs out of the wheel if you need to. Finally, you'll need a three-millimeter Allen key to tighten the wheel. Unfortunately, this isn't included in the box.
Best Alternatives
Fanatec Podium Steering Wheel Porsche 911 GT3
If you're looking for an F1 experience, the Podium Steering Wheel Porsche 911 GT3 is one of the best R300 alternatives. However, it is slightly more expensive, costing around $650. Nonetheless, it is a beautiful piece of equipment with a high-end look and feel. Like the R300, this 320mm wheel comes with the Podium Button Module Endurance for quick access to controls. Plus, you get the same Podium Advance Paddle Module with 4 magnetic shifters.
However, the most notable difference between the two wheels is central. The Porsche 911 GT3 includes the same round wheel design with two rotary encoders that can be configured as 12-position switches. Unlike the R300, it also features a 2.7" OLED display with 9 high-intensity RGB RevLEDs and 6 RGB FlagLEDs to present a huge amount of data in front of drivers.
CSL Universal Hub
If you already have a solid rim but are looking to add a powerful wheelbase, the CSL Universal Hub is one of the best ways to enter the Fanatec ecosystem. However, while this remains a good option, it's nowhere near the value of a complete wheel setup, such as the R300, Porsche 911 GT3, or even the BMW GT2.
Nonetheless, it's a pretty clever design that allows users to fit a variety of rim diameters using the 50mm or 70mm mounting stud patterns. Costing around $150, it offers several great features, including integrated button islands with eight standard buttons, a 2-way rocker switch, and snap-dome shifter paddles. Moreover, unlike the R300, you can access the Fanatec Tuning Menu with the push of a button.
Conclusion
Choosing a Fanatec wheel for simracing can be extremely daunting, especially for buyers who like to be thorough with their research. While every Fanatec product comes with a huge range of technology, you need to determine which one is best for you in terms of your budget, use case, racing level/capabilities, and sim setup.
If you're looking for a highly customizable wheel to build a stunning rig with responsive and competitive force feedback, the Fanatec Podium Steering Wheel R300 is an excellent choice. Moreover, it's well within the most competitive racers' ballpark for $500. Plus, it comes with an advanced paddle module and universal hub, so it's worth the price.
Still, it's a heavy investment, but if you know anything about Fanatec, you know there isn't much about the brand that says "budget." It designs the best sim racing peripherals and products in the market and offers a range of options for different types of buyers. You just have to do your homework to ensure you spend your money wisely.
Hopefully, our Podium Steering Wheel 300 Review will suffice to make an informed decision. You can also check out our reviews on other steering wheels in the market for a brief comparison.